OK so you messed up. In your hurry to get the oil changed you applied too much torque and that sickening feeling of the plug turning without tightening is keeping you up at night. Have no fear, there is an easy fix. Easy if you have some basic mechanical knowhow. Of course you striped the threads so the basics are in question. Never mind, just follow the steps
1 Go to any decent auto parts store and buy the Thread Repair System ($30).
Hint: take the plug with you on the off chance that they carry multiple sizes
2 I prefer to lay the bike on its side as it is easier to work on. You do what you want.
3 Place grease on the tapping tool so that it may catch any aluminum chips.
4 Using a socket and ratchet thread the tool into the stripped hole until the tool goes in to the top of the second set of threads
5 Remove taping tool. See all of the chips on the tool (on the next photo)? Aren't you glad that you put grease on the tool.
6 Clean out the hole of any chips. I used a dentists pick and some paper towels to drag any chips out. That would be beyond the hole. You may also want to flush the pan out with a cheap quart of oil or for you anal types just take the oil pan off and don't send me any nasty replies about how you did it better.
7 Clean any oil off the threads using the chemical of your choice. I also use a Locttite primer, nice but not necessary. Notice all of the nasty chemicals in the photo
8 Select the proper lenght of insert by measuring thread depth.
9 Thread the insert on the first tapped portion of the tapping tool. The knurled portion of the insert should be the last part to go into hole. Look at the pictures on the box or the next photo
10 Apply locktite to insert
11 Thread the insert into the hole until it bottoms out with no threads of the insert outside the drain pan hole.
12 Place swager into the insert and strike with hammer to expand the knurled portion of insert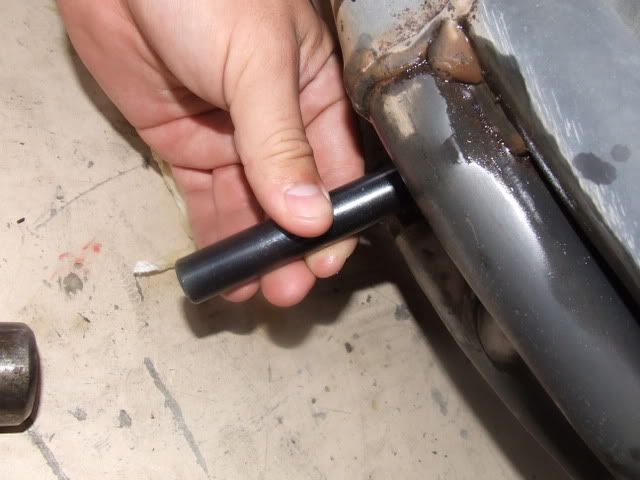 13 Put the drain plug back, you are done. Next time be more careful with aluminum threads